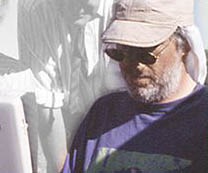 Richard

I qualified as a Dispensing Optician in 1972, but after working in practice for many years, decided to change direction. In 1996 I decided to study archaeology at Manchester University.

I soon realised, however, that it was the surveying side that really appealed. I now carry out geophysical, topographical and photographic surveys and was chief surveyor for the North Kharga Oasis Survey (NKOS), an independent project based on the Kharga Oasis in Egypt's Western Desert. This project is ongoing, but my role has ended, as the overall topographical survey and kite aerial photography work has been completed.

As well as photography, my other interests include bird watching and walking (I am an ex Mountain Rescue team member and Search Dog handler). Angela and I met while we were both members of Buxton Mountain Rescue Team. I used to climb when I was younger, but never really had enough talent so gave it up in favour of mountain walking. I also greatly enjoy canoeing - that's with a proper open (or Canadian) canoe. I did qualify as an instructor, but this lapsed while I was at university.
We are currently recording the "Through the Roof" project at the National Trust's Attingham House near Shrewsbury. This is a £1.4 million project to erect a weather-proof roof over the early 1800s cast iron and glass roof on the constructed by John Nash over the picture gallery. The work will take an estimated 2 years, so it should keep us busy! Keep up with what's happening by visiting the image gallery on our Heritage page.